HVAC Concepts offers 24/7 remote monitoring and alarm management services. Our Remote Operations Center is staffed 24 hours a day, 7 days a week, 365 days of the year with experienced and highly trained Building Automation Specialists. Our depth of knowledge and experience assures fast and correct prioritization when we need to respond to an alarm.
We offer customers several, flexible levels of our Remote Monitoring & Alarm Management services:
Live & Automated Alarm Notification & Escalation – Email, SMS, Phone Call(s)
Backup for Controllers, Server Applications, Configurations & More
Customized Monitoring & Response Procedures
Real-Time Troubleshooting & Diagnostics
Remote Programming & Commissioning
Customer Alarm Portal
Alarm Reporting & Trending
Alarm & Data Archiving
Associated Managed IT Services
HVAC Concepts does not just setup automated alarm notifications like many other companies. Our Remote Operations Center is watching for and sees alarms and events in real-time. Depending on the level of services agreed to, in addition to monitoring your facilities, systems and equipment, HVAC Concepts' highly trained Building Automation Specialists can take control and remotely solve issues in real-time or near real-time. This has allowed our customers to maximize their internal staff capabilities and minimize the need for staff during none-normal working hours and days. HVAC Concepts Remote Operations Center is a state-of-the-art facility with redundant systems, onsite backup power generation and state-of-the-art security.
The type of systems HVAC Concepts can monitor and control are:
HVAC Equipment
Building Automation & Control Systems
Refrigeration
Water Filtration, Wastewater & Leak Detection
Generators & UPSs
Retail Food Equipment
Lighting
Fuel Tanks
Electricity
IT Equipment
Facility Environmental Parameters
F.B.I.-365
HVAC Concepts offers customers a tool that allows them to see information about their facility or portfolio of facilities.
F.B.I.-365, for Facility Business Integration, can be used as a web-based customer-specific portal for insight into their facility or portfolio of facilities providing data on service histories, project statuses, BAS alarms, drawings, proposals, and more. In addition, Project and Sales Proposals (requests?) can be done right from the facility.
For Service managers and dispatchers, F.B.I.-365 is a quick look-up of facility history of service tickets, project work, and internal Communications. Site contacts and schedules are built-in, and email and texts can be sent directly from F.B.I.-365. Service managers and dispatchers can modify and create work orders without K2A.
F.B.I.-365 provides Technicians and Mechanics access to site [facility] information, service histories, current projects and the team assigned to them, documents including drawings, project scopes and everyone can connect to the facility BAS from anywhere, anytime using a computer or phone.
For Sales and Business Development, F.B.I.-365 works like a CRM with tasking, tracking and history and can add prospective sites and activity with access to site documents and communication histories.
Cyber Security and the integrity of business data are very important. F.B.I.-365 was designed around company-specific, role-based groups, and document- or folder-level permissions. It is hosted at redundant data centers, built around HIPPA compliant-level security, but for technicians, customer or sales people, access to valuable information about a facility is easily obtained through a single sign-on and clearly defined delegation of rights.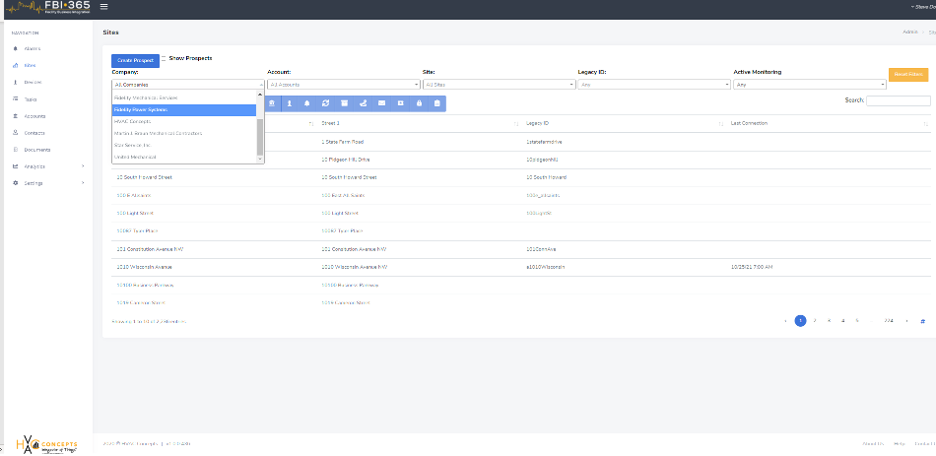 F.B.I.-365 provides your team with insight into any sites supported by the Fidelity BSG portfolio of companies.
Features of F.B.I.-365:
Alarm Monitoring & Notifications
Secure Connectivity into your Building Automation Systems Portfolio
Customizable Messaging Templates
Site Activity Tracking • Contract Information
Tasking (Sales, Operations, Technicians, Administrators)
Document Storage & Accessibility
Reports & Automated Reporting
Customer Specific KPIs
Today, F.B.I.-365 can interface with most facility Building Automation Systems and can strategically route notifications to your team.
Our partner Stratusi, is a leading provider of a wide variety of technical services including enterprise software development, cybersecurity consulting, load and stress testing, and much more.
Facility Business Integration (F.B.I.-365) is not in any way affiliated with, endorsed, or approved by the Federal Bureau of Investigation and is a wholly independent business entity.
F.B.I.-365 is a registered trademark of HVAC Concepts, LLC.